Natasha Bennett (Ntaria)
Wanta Ntaria has enjoyed lots of bush trips this year thanks to our great staff members and Benji, our local tour guide. Learning on country has been a big focus, and a great attendance strategy and the students have enjoyed every minute of it!
Niamh Geoghegan (Arlparra)
Arlparra has had another great year with students enjoying the Wanta room at Arlparra High School daily. We have been on reward trips to Alice Springs to play AFL, go swimming and bowling. We launched our social enterprise Sandover Scents, making candles and t-shirts and tote bags and traveling into Alice Springs to sell them at the night markets.
Rhonda Curnow (Beswick)
The highlight of the Beswick academy program has been the social enterprise project. The Beswick Burgers (BB's) was brought to life by the students, who successfully hosted three events throughout the year launching their social enterprise business. These events took place within the school, community basketball court and the Michael long Centre. Over these three events; BB's has sold 300 burgers and raised $1100. Students will contribute over 50% of the funds to the Aged Care Centre in the community, this project has given the Beswick students the opportunity to learn essential life skills around money handling, hygiene, and communication skills. The BB's team are now looking at the prospect of enrolling into further education obtaining their food handling certificate and first aid course which will allow us to scale this project and deliver into regional and city centre areas. I can't wait to share the growth of this social enterprise project with you!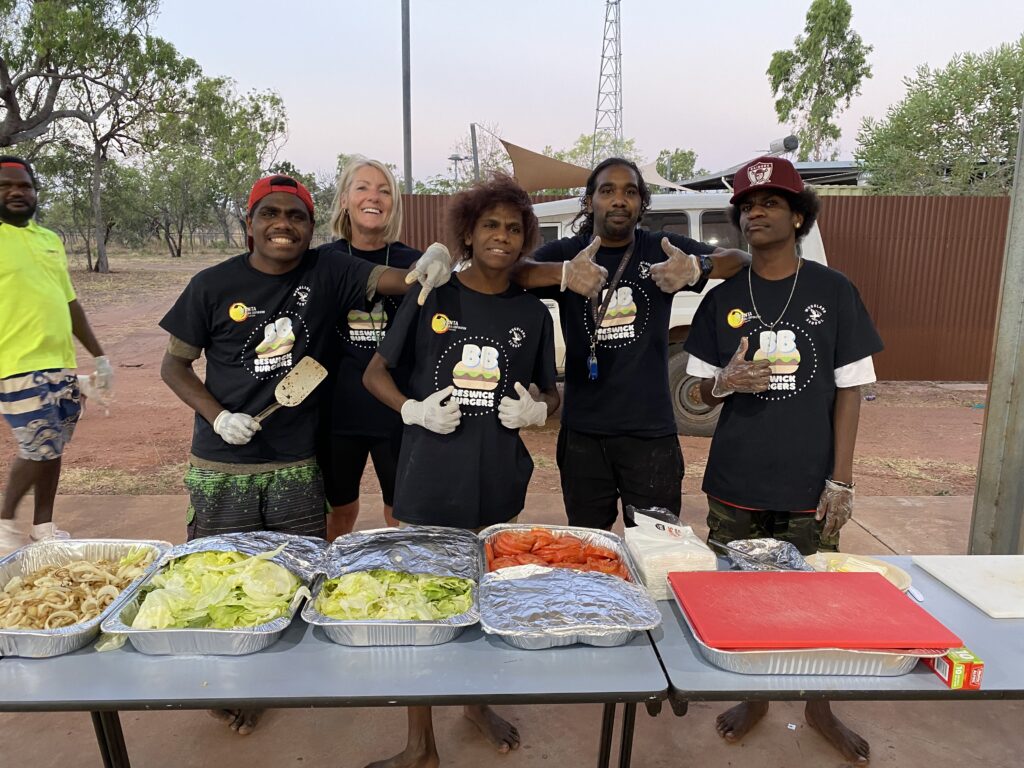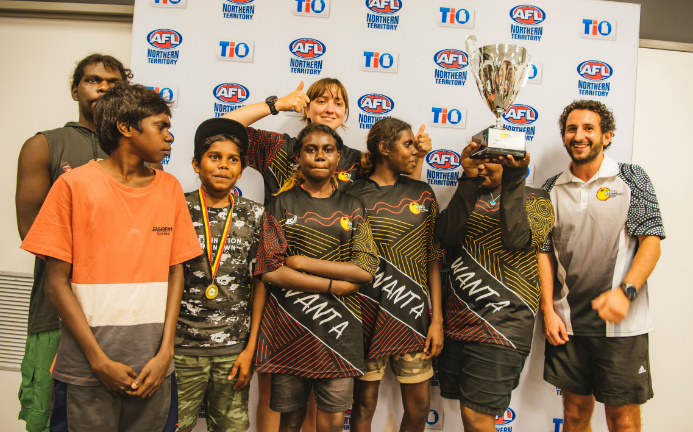 Henly Taka (Papunya)
Some of our Papunya highlights this year include; picking up kids every day for school in Papunya and also four outstations and providing them with more than two thousand serves of breakfast. We have found that many kids are motivated to come to school just because they love to have fun in the Wanta Academy room before school and in between class times. We also helped organise and set up a successful Cultural Day for Papunya school, took kids out to country every term to cook kangaroos tails and have a yarn with elders about the importance of school and doing the right things. Wanta hosted a BBQ at the start of each term for parents/caregivers and other community members which resulted in exceptionally good community engagement and relationship with the parents/caregivers, traditional owners, other members of the Papunya community and a fantastic working relationship with the Papunya school principal.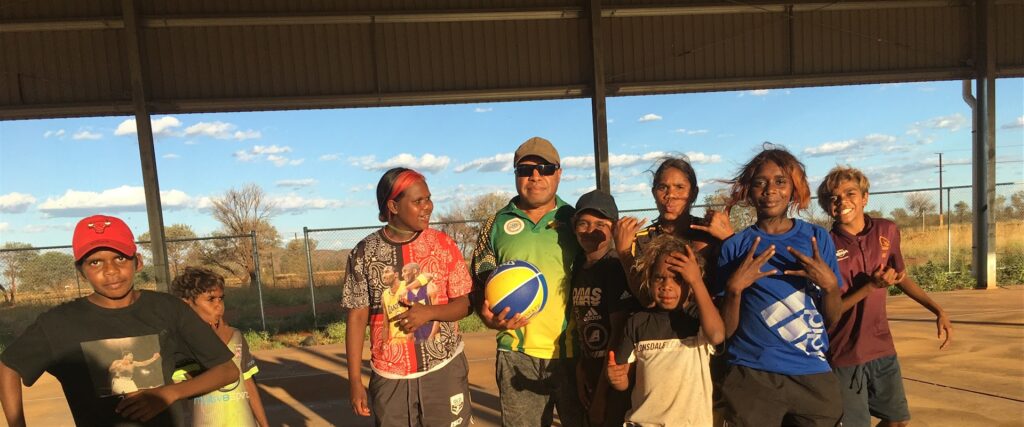 Ellie Simmons (Kalkaringi)
We have had lots of great active local adventures near Lajamanu and all over in the NT and WA! Canoeing, Kayaking, Rock Climbing, Wakeboarding, Horse Riding, Hiking, Camping. The mob are getting pretty good now at setting up camp and doing overnight adventures!!!Many many meals were cooked in the Wanta room, out bush and on trips! The students prepared some very tasty, delicious and nutritious meals. With the plan that they will have the knowledge and confidence to cook good solid meals at home.Lajamanu and Kalkaringi carried on the tradition of inter community sports events with AFL and basketball between the boys and girls, always a popular outing and lots of cheering in the vehicle on the way home when 'your' team wins! The Wanta room is still ever popular with pool table matches, playstation and the years activities on the TV so the students are able to see themselves in action.
Simon Blake (Lajamanu)
From daily use of the Wanta space; delivery of nutrition, social enterprise, driving education, Alcohol and Other Drug education, school chaplaincy services, and sport lessons; reward trips to Katherine, Darwin, and Kununurra; bush trips out on Gurindji country involving every stakeholder in community; and sports fixtures every term against Lajamanu, 2021 has been another jam-packed year. We have achieved huge results, the highlights including four Learner drivers licenses, raising almost $2000 in our Social Enterprise project, five senior students undertaking and nearing completion of their Certificate 3 in Civil Plant Operation, spending almost 40 nights away on camps and trips, and four seniors canoeing 55km from Lake Argyle to Kununurra! Here's hoping 2022 will see Wanta providing even more opportunities, achieving brilliant outcomes, and making amazing memories in the process!
Kira Briscoe and Pristina Briscoe (Yuendumu)
This year at Wanta has been a roller coaster ride starting out the year trying to find a space for youth in community to engage in programs and finishing with a team almost doubled in size!The result, a whole Indigenous Yuendumu based team of 16 and an incredible youth space in community! Youth have been able to experience new this, like the amazing trip to Darwin run, learning how to screen print and make their own clothing and business and getting to make and eat foods from other countries. The Wanta team has done an amazing job allowing kids to engage in so many diverse programs both in Yuendumu and outside, expanding their knowledge and experiences. We can't wait to continue and do more in the new year!
Jessica Powell (Gunbalanya)
2021 welcomed the start of the Young Women's Academy in Gunbalanya and what an incredible time it has been. A significant improvement in attendance and empowerment of our Gunbalanya girls came as a result of being connected to Country and keeping culture strong through lots of experiences out on country. Keeping active and healthy through morning and afternoon sports that seen us playing lots of AFL and starting a local Basketball competition. Developing new skills and important knowledge through hands on sessions about AOD, nutrition, cyber safety, Drivers Ed and social enterprise. The girls were rewarded for their hard work and dedication to school and Wanta through a number of camps including Cooinda, Maguk Falls, Darwin and the Michael Long Centre. We can't wait for an action packed 2022 in Gunbalanya.
Taren Williams (Ntaria SCFC)
In 2021, Wanta took on the role as Facilitating Partner for the Stronger Communities for Children program in Ntaria. Ntaria Co-ordinator Taren Williams has set up an office space in community and worked with the local decision making group to approve funding for 8 programs to support improved lives for children and youth living in Ntaria. Some of the programs which have been running in 2021 are the Young Women's Room at Ntaria School which supports engagement, safe spaces, hygiene and mental health education for young women attending Ntaria School. Another program collaborated with Royal Lifesaving Northern Territory to provide First Aid and Bronze Medallion training to MacYouth ad Wanta youth staff to provide them with skills, knowledge and training to provide programs both in and around Ntaria. The SCfC team attended a Sharing Knowledge Seminar collaborating with all SCfC programs across the NT to work together to share best practice in the field of community development in remote communities.The SCfC team are looking forward to working with the Ntaria Local Community Board to provide even more programs in 2022!
Demian Coates (CEO Wanta Aboriginal Corporation)
Wanta would not be where it is today without our amazing hardworking, passionate and resilient team. I thank each and every one of you for your outstanding efforts this year, it has truly been one of the hardest yet most successful and we could not have done it without you. Thank you to everyone who continues to help achieve Wanta goals of improving the lives of First Nations youth, including our sponsors, funding providers, board members and the community. Wishing everyone happy and healthy holidays. Merry Christmas and Happy New Year.